Event Date:
Saturday, October 22, 2011 -

09:30

to

13:00
Location:
Fletcher Jones Foundation Auditorium
7500 Glenoaks Blvd.
WOODBURY UNIVERSITY
91504
Burbank
,
CA
United States
Event Details:
The Hollywood Section of the Society of Motion Picture and Television Engineers (SMPTE) will hold the inaugural Student Professional Development Conference on the campus of Woodbury University on Saturday October 22 from 10 a.m. - 1 p.m. The event will take place in the Malburg Atrium of the Fletcher Jones Foundation Auditorium in Woodbury's School of Business building. The event is free and open to the general public. Plenty of free parking is available and refreshments will be served. You may download a copy of the Program Guide HERE.
The 
H-SMPTE Student Professional Development Conference
 is an opportunity for students and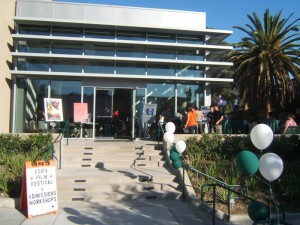 working adults to meet with entertainment technology experts in Animation, Visual Effects, Digital Cameras, Digital Cinema, Mobile Distribution and other topics in today's global media industry. Up close and one-to-one, our Guest Experts are available for questions and discussion on current trends and issues facing the industry today.
CURRENT SCHEDULE AND TOPICS
9:30 - 10:00 a.m.
RECEPTION - Coffee and Pastries will be served
9:45 - 10:00 a.m.
WELCOME and introduction of guests/format
10:00 a.m. - 1:00 p.m.
OPEN TABLE DISCUSSIONS
Chris Stover - Head of Layout for "Turbo", Dreamworks Animation
Animation Production and Technology

George Aluzzi - Director of Technology and Engineering, Warner Bros. Motion Picture Imaging

Jan Yarbrough - Technical Director/Colorist, Warner Bros. Motion Picture Imaging

Color Management
TBA
Sound and Audio Engineering
Howard Lukk - VP of Production Technology, The Walt Disney Studios
Live-Action Production and Technology

Curtis Clark, ASC - Chair, ASC Technology Committee

New Camera Technology/Cinematography
TBA
Broadcast and Television
Ray Scalice - VP and GM Pixel Magic
Visual Effects
Manny Francisco -Technology Manager, Dreamworks Animation
Motion Capture and Pre-Visualization
Tony Rastatter - Supervising Editor, Warner Bros.
Editorial

Steven Anastasi - VP Media Archives, Warner Bros.

Digital Intermediate and Film Archival

Clay Speicher - Senior Systems Manager, Warner Bros. Motion Picture Imaging

Data Management
Wendy Aylsworth - SVP Technology, Warner Bros./EVP-SMPTE
Digital Cinema and Distribution
Chris Henderson - Lead Digital Media Specialist, Global Digital Media Exchange
DVD/Blu-Ray Authoring
TBA
Mobile Digital Platforms
Mark Arana - Director, Advanced Technology, The Walt Disney Studios
Content Protection Technology
1:00 - 1:30 p.m.
Wrap-up
1:30 - 2:00 p.m.
Clean-Up